Cool Cat Saves The Kids is a 2015 movie by a man named Derek Savage. It looks like this: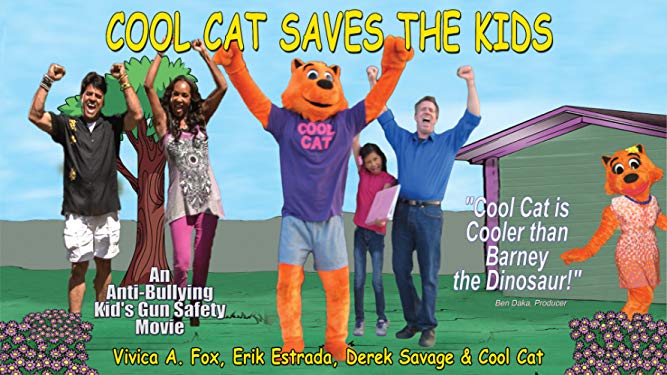 Inexplicably, it stars well-known actors Vivica A. Fox and Eric Estrada. Yes that is f****** Comic Sans font on the poster. YES, that quote "Cool Cat is Cooler than Barney the Dinosaur," is credited to the PRODUCER OF THE MOVIE.
It's a real thing, that actually exists.
Another real thing, that actually exists is 'Cool Cat Saves The Kids', the second track and defining statement of the self-titled album by khaki cuffs, that I'm here to talk about today.
"I have nothing left to give…"

'Cool Cat Saves The Kids' by khaki cuffs
… goes the sad refrain of 'Cool Cat Saves The Kids' – a tale of post-high-school angst that will have you raise your arms in solidarity with all the other sad kids out there.
"I feel nostalgic,
For highschool I don't why,
Cos I hated it,
When I was still a kid,
But times were simpler then,
And I can't help but think my life is over…"

'Cool Cat Saves The Kids' by khaki cuffs
It's the questions that unite us all in song form – What are you supposed to do once you're free from the rules and guidance of school and your parents? What even is "being an adult" anyway? And, who defines it? What do I do? Why am I here? Won't someone please just help me?
It may seem childish or overly melodramatic, but it's a real issue that affects everyone regardless of race, sex, gender or sexuality. Just what the f*** am I supposed to do with my life? For most the answer is there, but not spelled out – Get a job as fast as possible so you can compete in the endless capitalist game that we all spend our lives playing.
For the lucky few – the "winners" – comfort and superiority await.
For most others, an endless struggle to stay afloat, regardless of age-group (boomer or millennial or whatever other bulls*** term you want to put on it), sex, gender, race or sexuality.
For a growing number of others still; homelessness, addiction, illness or a premature death are what they have to look forward to.
For khaki cuffs, their answer is ten crushing tracks of pure, almost joyful sadness. Tracks like 'yellow means "floor it"' and 'the ford broncos vs. the green day slackers' pulse forwards, never looking back into seas of anguished screams, while 'drake taco bell' and the almost meditative 'i am fairly certain that frankie from no option hates me' undulate and crawl through layers of swirling guitars and drums.
The question is always the same though:
"Why would you change?
Just stay the same,
Why do things change?
Just stay the same…"

'drake taco bell' by khaki cuffs
I don't know the answer to this. But at least we have Cool Cat.
You can purchase the self-titled album by khaki cuffs for any price you wish, or just pay nothing and download it for free while stocks last (?) on the Fault Records Bandcamp page and you can also find the band on Twitter here and Instagram over here. Stream the album below if you like.
Cool Cat says, "Stay cool and practice gun safety!"*
*Probably.